iPhone Travel Application Reviews
iPhone applications that SeatGuru recommends:
SeatGuru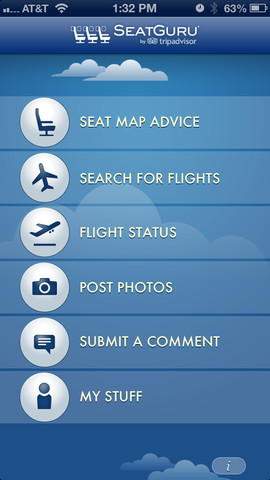 Frequent flyers and casual travelers alike love their iPhones, due to a wide variety of apps that can make life on the go seem a little less chaotic. With SeatGuru's newly revamped app, you now have one more reason to appreciate your wireless companions.
Have you ever suffered through a cramped 8-hour economy flight? Download the SeatGuru app on your iPhone and find the most comfortable seats, making that once distressing long-haul flight a little more pleasurable. The free SeatGuru app for iPhone puts our preeminent guide to air travel in the palm of your hand. Offering over 700 color-coded seat maps backed by more than 50,000+ reviews from flyers, you'll know which seats to book-- and which to avoid. Our app also boasts a flight search engine powered by TripAdvisor that makes finding the cheapest airfares easier than ever.
Got comments or photos from your flight to share? We've streamlined this process, making is easier to submit feedback by logging in using your Facebook account. Some members have asked if we could integrate logging in with their TripAdvisor account-- Not yet, but we're working on it! Sure, we may be biased, but we still think the SeatGuru app is a handy tool for all flyers.
Cost: Free
SeatGuru Says: From seat maps to plane amenities, this awesome app helps you fly smarter.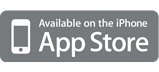 TripAdvisor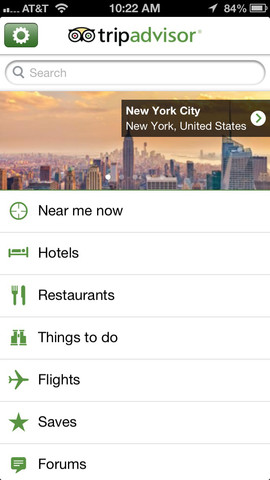 The TripAdvisor app is an essential tool for any traveler on the go. It's great for reading reviews, helping book a hotel, finding local restaurants, and hunting down the hottest attractions.
Not only can you plan your trip with the TripAdvisor app, you can actually make hotel bookings as well via TripAdvisor's partner sites. You can view prices and offerings from multiple travel agencies and hotels ensuring that you're getting the best possible deal.
How about finding a flight? TripAdvisor has integrated its award-winning flight search tool into the app. It seamlessly searches multiple partners to find you the best price, including low cost carriers, established discounters, and leading airlines. With hotel and flight search options, it really is a complete travel app.
The one drawback is that it lacks a log-in to your TripAdvisor account. This means that messages and saved trips can't be checked on the app but this is not likely to be all too important when you're out on the town.
Cost: Free
SeatGuru Says: The TripAdvisor app is easy to use, and great for browsing on the go.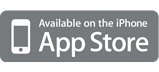 Seat Alerts by ExpertFlyer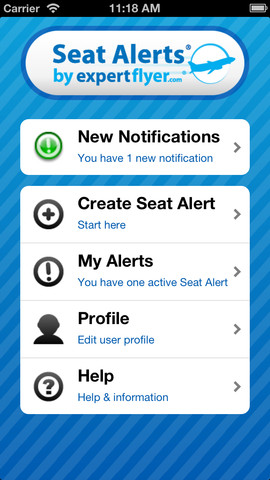 As airlines become more worried about profit and less about passenger comfort, finding the seat you're looking for has become virtually impossible. Due to airlines reducing the number of open seats available at the time of booking, passengers have been turning to ExpertFlyer to locate their ideal seats, and rescue them from the airlines' seating stranglehold.
Using the app is pretty straightforward. Say you've booked a middle seat, because there was nothing else available when you booked your ticket. Don't sweat it: Simply create a Seat Alert for the seat you've got your eye on, and by using live data connectivity to airlines around the world, ExpertFlyer will send you a notification if and when it becomes available.
Using Seat Alerts on your iPhone also provides you with live seat maps. This coupled with seat reviews supplied by SeatGuru makes ExpertFlyer an essential tool for any savvy traveler.
Cost: Free
SeatGuru Says: ExpertFlyer is your real-time seat hunter.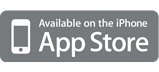 Flight Track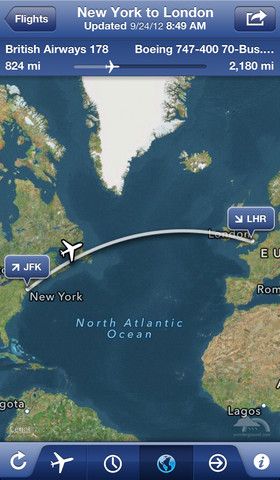 Whether you're travelling or picking someone up from the airport, knowing at what time a flight is arriving or departing is crucial. Well, the Flight Track app eliminates the guesswork by telling you the exact status of any flight.
With this application, you can track flights by flight number or by route and it shows you the precise departure and arrival time-- and alerts you to any delays. The Flight Track app also tells you what terminal the flight departs from and arrives at.
The slider at the top of the screen is a handy feature that shows the progress of the flight. This can also be found by clicking on the Map page of the app. We think this is really cool as you can see the exact location of the aircraft in flight.
Shake your smartphone, and the Flight Track app will give you flight information of a randomly chosen flight. This feature is more fun than practical but is a great way to kill time, especially if your flight happens to be delayed.
There is a tab marked 'By Airport'. We expected to be able to check flight status departing from a specific airport, however it leads to another application called 'Flight Board'. This application shows you flight arrivals and departures from any chosen airport. Ideally, this would be part of the Flight Track app but for now you need to purchase and download this app separately.
Cost: $4.99
SeatGuru Says: Something Smart and Sassy.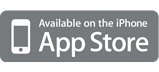 Packing Pro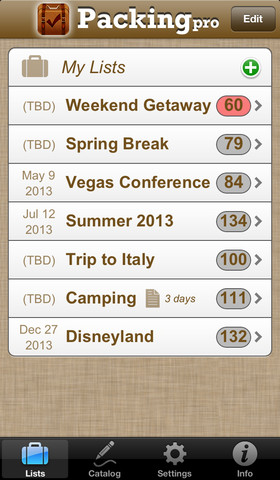 We've all been there-- That moment of uncertainty that sweeps over you as you pull out of your driveway right before you head to the airport. You try to assure yourself that everything is accounted for yet you get the feeling that you're forgetting something. Sound familiar? Then Packing Pro may be the perfect app for you.
Packing Pro conveniently allows you to store an all encompassing checklist on your iPhone with over 800+ items that can be added to a single list. Once inputted into the app, Packing Pro recalls the basics, helping you plan out what needs to be done or what needs to be collected before your next trip. Whether it's a reminder to close the garage door or to pack your unmentionables, Packing Pro takes the worry out of traveling.
Cost: $2.99
SeatGuru Says: The ultimate app for the planner in your life.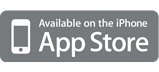 GateGuru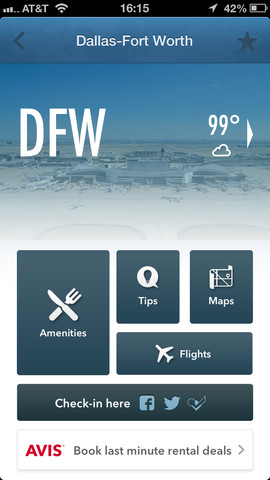 Do you ever feel like you're practically living at an airport? If so, then get GateGuru now.
Search from hundreds of airports and terminals, and you'll get lists of shops, places to eat, and other airport hot spots. Read reviews from other travelers and if there is a shop or restaurant missing from the list, you can join in the fun and add a review. This will earn you "High Flyer" points which allows you to compete with other GateGuru users for the top spot. See who can earn their captain's wings first!
Other handy features include reported wait times at the security check points and airport maps so you can get to your gate faster. It would be great to actually have all the shops, restaurants and other facilities highlighted on these maps. We think it would also be helpful to add information on the best way to get to and from the airport.
Nevertheless, GateGuru is a great app to have if you spend a lot of time at airports. It'll help know what facilities can be found in your terminal maximizing your time spent there.
Cost: Free
SeatGuru Says: GateGuru makes airport travel a little less stressful and a little more fabulous.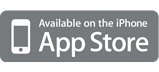 Expedia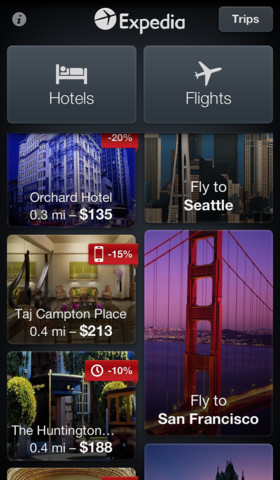 The Expedia Hotels app is the perfect app to find and book hotels. Like the Expedia website, it features thousands of hotels worldwide that are just as easy to book with this app as they are on the web.
Run a simple search and the app presents you with all the hotels within a close proximity of your current location or desired destination. To get a better overview of the search results, you can sort the hotels by ratings based on reviews by Expedia customers. You can also sort the list based on price or popularity.
We are a big fan of their filters which allow you to sort by distance, star rating or hotel name. Each hotel page is filled with information you'll need to make the best choice, including photos and icons that quickly tell you what amenities are available.
Bookings are pretty simple to make using the Expedia app but a great enhancement would be the ability to auto fill personal details. Who wants to type them in when there are hotels to be searched? The booking form gives you an option to fill in contact details but it just leads to the phone's contact list.
Cost: Free
SeatGuru Says: Expedia; where booking hotels is a breeze.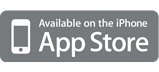 Orbitz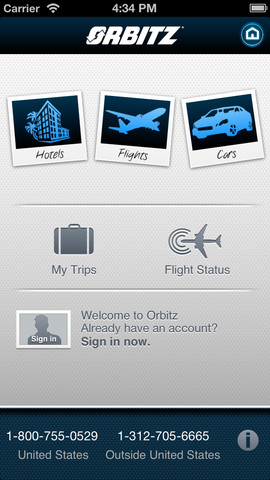 In this fast paced world you need apps that can keep up with you. With Orbitz's unrivaled speed, this app allows you to search and book flights, hotels, and rental cars quicker than ever before.
The map interface makes it easier to find Orbitz's "Mobile Steals", specialized mobile-only discounts featuring hotels around you and in popular destinations around the world. You can sign-in using your Orbitz.com account and access your preferences so that booking goes even faster. Access your itineraries, add trips to iCal, get gate change information and flight status updates-- all with just the swipe of a finger.
Cost: Free
SeatGuru Says: If you've got a need for speed, Orbitz is the app for you.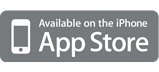 Uber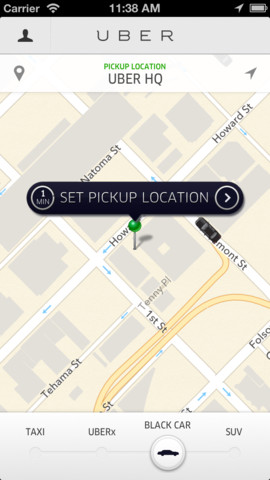 Ballooning traffic, congested sidewalks, crowded public transit. Don't fret-- Uber has your back.
No need to suffer in the cold rain or feverishly hail a cab after hours. Just pull out your iPhone, launch the Uber app, and tap a button to track your location. Within minutes, a sleek black car will appear to take you to your destination. Once you've arrived no need to fumble through your wallet looking for cash to hand the driver. Payment has already been taken care of using the app.
The Uber app is an absolute must have for any city-goer trying to enjoy a night on the town or scrambling to make their flight on time. It may be a little pricey, but trust us, it's definitely worth it.
Cost: Free
SeatGuru Says: With Uber anyone can travel in style