Gadgets >
Android Travel Application Reviews
Android Travel Application Reviews
Android applications that SeatGuru recommends:
SeatGuru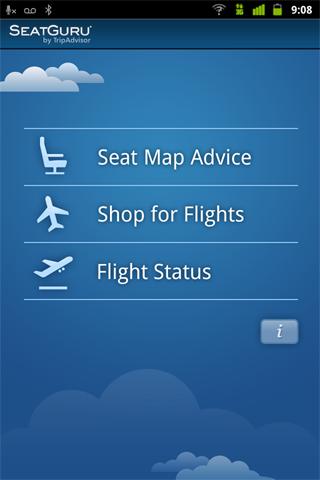 SeatGuru, the ultimate source for airplane seating advice has a new app for your Android device that makes it simpler than ever to find your ideal seat. Shop for the lowest fares using our flight search tool backed by TripAdvisor that ensures you are getting the best deal. Before you book don't forget to consult the seat map of your scheduled flight to make sure you're reserving the best seat available; this becomes critically important for long-haul flights.
Additionally the SeatGuru app provides airline recommendations and amenity information. Ranging from in-flight entertainment options to Wi-Fi accessibility helping you decide whether to bring your laptop or opt for something to read. This app features an extensive list of over 700 seat maps covering more than 100 airlines with new additions and updates coming just about every week.
Unfortunately, unlike the iPhone app you currently aren't able to submit comments or photos, which can be a little frustrating as you aren't able to share your in-flight travel experiences. Even so, the SeatGuru app remains an absolute must have for any frequent globetrotter or traveler who values comfort.
Cost: Free
SeatGuru Says: Your go to source for accurate seat maps, give us a look before you book.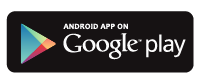 TripAdvisor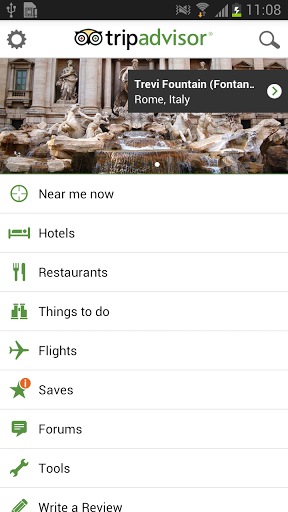 TripAdvisor, the quintessential name in the world of travel. Backed by millions of traveler reviews, photos, and maps provides you with the tools to help plan the perfect trip. Using the Tripadvisor app for Android makes it easy to find the lowest airfare in addition to the best places to stay and eat.
The TripAdvisor app compares airfares from various booking sites ensuring the lowest possible rate. Find the best hotel for you; sorting by price, rating, and keep an eye out for Travelers' Choice award winners. Discover new tastes by filtering through countless restaurants. Also, TripAdvisor provides you with a list of cool things to do, from attractions to shopping in any destination. And you can breathe easy throughout the booking process, as over 100 million reviews and opinions by travelers help alleviate the guesswork.
Become a member of the TripAdvisor community by adding your own reviews or share your travel experiences by submitting videos and photos with just a few simple taps. The app is easy to use and certainly a must have for anyone who calls him or herself a traveler.
Cost: Free
SeatGuru Says: TripAdvisor may be the only travel app you'll ever need.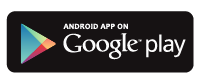 Seat Alerts by ExpertFlyer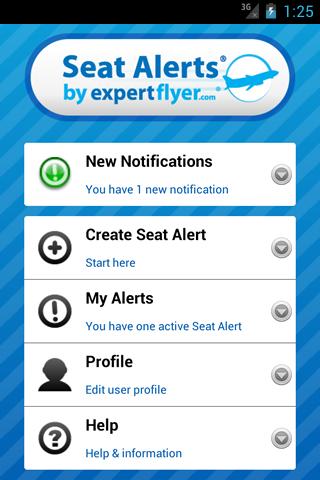 Ever tried booking a flight to one of your favorite getaways only to find that a middle seat is the only option available? Relax-- with Seat Alerts by ExpertFlyer you can bypass the drudgery of an unwanted seat by following a few simple steps.
First, look up the seat map of your upcoming flight, then set up a Seat Alert for your desired seat. Then sit back and wait for ExpertFlyer to notify you when your preferred seat is found. It's that simple.
Seat Alerts will monitor the available seats right up until the time of your flight making last minute changes possible. If you receive a Seat Alert informing you that your desired seat has become available, all you have to do is contact the airline or travel agency that you booked the ticket through, request the change, and you're all set. What's the success rate of finding your preferred seat? ExpertFlyer is able to find you an available window or aisle seat more than 75% of the time.
Additionally, the seat maps include seat ratings provided by SeatGuru which helps you ensure that the seat you're pining after is actually one to be desired. ExpertFlyer is the perfect app for any frequent or savvy traveler.
Cost: Free
SeatGuru Says: Get Seat Alerts by ExpertFlyer; don't get stuck with a middle seat.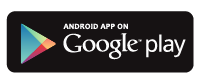 Flight Track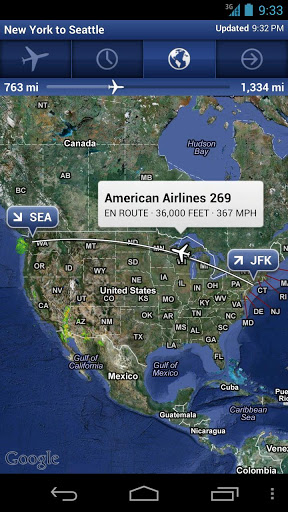 The FlightTrack app is highly touted by many as an absolute must have for air travelers, and it's not by coincidence. This app provides visually stunning maps that allow you to zoom-in and out seamlessly all while providing real-time departure info, delays and cancellations.
The real time status updates are nice but what puts the FlightTrack app over the top is that if your flight happens to get cancelled, this app will help you find alternate flights with a simple tap. And with more than 3,000 airports worldwide and 1,400 airlines featured; all but guarantees that your flight itinerary will be covered.
That alone in our opinion would be worth the price of download but the FlightTrack app offers so much more! The home screen widget allows you to track flights even when the app isn't open. Share your flight status by e-mail or display updates through Facebook or Twitter. Lastly, the app is compatible with SeatGuru which lets you search through hundreds of seat maps assisting you in finding the perfect seat. It's worth noting however, that charter flights are not currently listed and that some low-cost carriers do not share flight status data but that shouldn't be much of a bother as the majority of airlines' flight information is available.
Cost: $4.99
SeatGuru Says: It pays to be on time.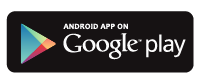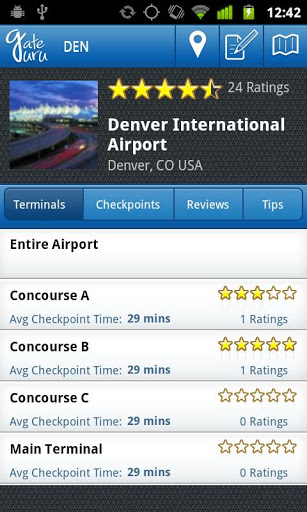 GateGuru is without a doubt the preeminent day-of-travel app; revolutionizing the way you pass time at the airport. GateGuru offers an extensive list of places to eat and shop with over 25,000 reviews and 5,000 photos from other travelers on airports and their various terminals.
Not only does this app feature the most comprehensive list of airport amenities but it also provides a way to view airport security wait times, helping you assess whether or not you've got time to grab a quick snack before takeoff. GateGuru provides neatly displayed airport maps and a search engine that allows you to sort amenities, making it a little easier to find your preferred indulgence. Once you've found your desired amenity, bookmark it, along with the common airports you frequent, making it effortless to find your favorite places on future trips.
The only downfall with this app is that despite covering over 120 airports there are some top ones still unaccounted for. That said GateGuru is continuously expanding their coverage and remains a very useful app and one that should be part of any frequent traveler's repertoire.
Cost: Free
SeatGuru Says: When it comes to airports; GateGuru makes the foreign, familiar.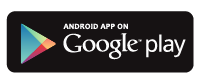 Expedia
The Expedia Hotels & Flights app fits all the wonderful features of Expedia's desktop experience into the palm of your hand. Use the Expedia app to find the perfect room at an affordable rate. Run a simple search and sort by reviews, deals, and price. See reviews from actual hotel-goers to help find your ideal resting place, all while saving as much as 60% with Expedia's Mobile Exclusive hotel deals.
The Expedia app also offers a useful flight search tool, allowing you to sort by price, time, and duration. Search by airport name or city to virtually anywhere in the world and if you're already signed in you can book your entire trip in minutes. Also, the app allows you to view your upcoming trips; displayed beautifully whether on the app or the web.
Between the individual hotel and flight searches available on the Expedia app, simply trying to figure out the destination of your next trip might be the most stressful part of the booking process.
Cost: Free
SeatGuru Says: Easy to use, even easier to save.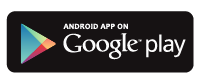 Orbitz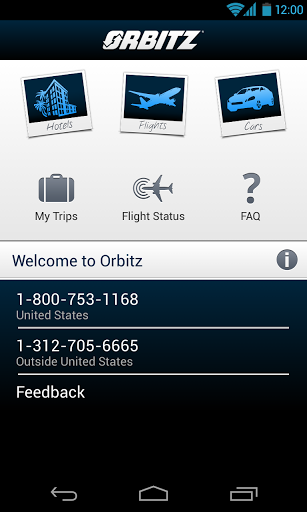 The Orbitz app allows you to plan virtually every facet of your trip making it one of the best ways to book travel on your Android device. You can quickly search and book hotels, rental cars, and flights. Furthermore, you can also check flight status, view your current trips, and get detailed hotel information; including photos and guest reviews for thousands of hotels with the swipe of a finger.
Orbitz also features "Mobile Steals", exclusive mobile-only discounts of up to 50% off select hotel rooms all around the world. The app also boasts a simple and secure booking process backed by Orbitz's Price Assurance. Lastly, the app gives you the ability to call one of Orbitz's trained agents; available 24 hours a day assisting you in booking a trip or while traveling. It may not be the most practical feature but it's nice to know that Orbitz has got your back if needed.
The Orbitz app is undoubtedly the fastest and perhaps the easiest way to search and book an entire trip making it an absolute must have for any traveler on the go.
Cost: Free
SeatGuru Says: Search and book in a snap.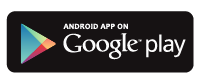 Uber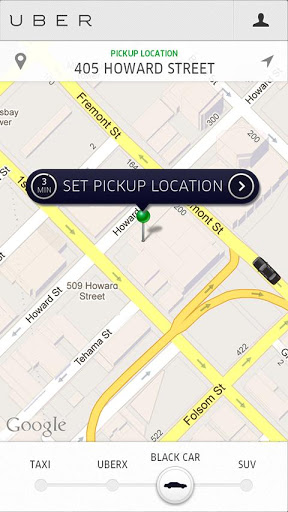 Uber, 'Everyone's Private Driver' makes it easier than ever to navigate through today's busy city streets. No longer must you suffer in the cold, rain, or deal with competition when trying to hail a cab. Simply pull out your Android device, launch the Uber app, and tap a button to track your location.
The app lets you driver know your precise location and in turn provides you with an estimate as to exactly how long it will take for them to arrive. Once you've been whisked away to your desired stop, no need to go searching for your wallet as payment has already been taken care of using the app.
The Uber app is an absolute must have for any city-goer, allowing you to navigate through the chaos in the comfort of your own luxury vehicle It should be noted that Uber is only available in select cities but that list is expanding rapidly. It may be a little more expensive than the average cab but it's worth every penny.
Cost: Free
SeatGuru Says: Where affordability and luxury meet.